About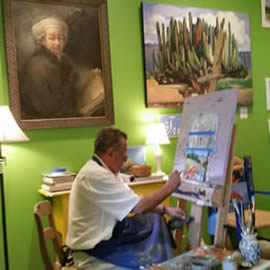 When Sergio and Karen Ladrón de Guevara saw the charming mission-inspired building on the main thoroughfare of Cave Creek, Arizona in 2001- they decided it was time to open an art gallery. Their first thought was to create a space to feature Sergio Ladrón de Guevara's considerable artistic output and accomplishments from a lifelong career as an artist, and to highlight, in particular, his current work. It was clear that they could easily keep the gallery filled this way; but as their thinking evolved over time, they realized that they also wished to create an environment that allowed for a variety of artistic interactions, one that would foster distinct artistic voices in a harmonious setting and create a complement to Ladrón de Guevara's work. Thus for the first six years of the gallery's existence this is what was done. The gallery represented Sergio and a number of other artists.

In the summer of 2007 however, they changed their minds. They decided it was now time to devote the entire space of the gallery to Sergio's work. The many people interested in Sergio's art now would have one place to go to see the paintings, etchings, silverpoint drawings as well as his Fine Art Giclee prints of many of his originals. The gallery was still named Galeria Bellas Artes (gallery of beautiful/fine art), and the space was revived and transformed to include Sergio's etching studio in the back section. A rich ochre still covered the exterior walls which were complemented with flowering plants, a terrace and latilla. The light filled gallery created a perfect setting for art, against pale maize hues accented with white. The space was an inspired and intimate environment, particularly well suited to showcase paintings and prints. The diminutive garden allowed for conversations on art and a glass of wine or receptions for Sergio's newest show. Karen and Sergio hoped that those who visited this lovely part of central Arizona, conveniently situated near northeastern Phoenix, would find their way to the doors of Galeria Bellas Artes. The Ladrón de Guevaras planned changing exhibitions every year.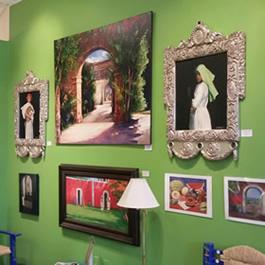 After nine years in the little gallery however, in the year 2010, they had another idea. They needed to find space - much more space. In less than 2 minutes of Karen thinking that perhaps they should look for a bigger gallery a friend phoned to suggest a move to a new space and why didn't they come to see it right away. Within a few days they had decided on a new gallery just ¼ mile up the road from the old space and in one month's time they had moved in to a wonderful open space with areas already divided and ready for many paintings to be hung. High ceilings and triple the space – they were pleased. Karen was most thrilled by her new office with windows out to the open desert. Thus in March of 2010 Galeria Bellas Artes moved to a new location. Nine years to the day of when they first moved in to the 'little gallery'.
All went beautifully in their new space. Much more of Sergio's art could be on view at one time and then in March of 2013 as they began their 13th year with a gallery, Karen did the obvious and changed the name of the gallery to SERGIO LADRON DE GUEVARA FINE ART. A new phase had now begun.
For many years Karen and Sergio provided a superior artistic experience for their clients and friends. With the unexpected passing of Sergio on February 28, 2017 life brought about a change like no other. Karen now invites you to visit both the gallery and website to see the changing selection of featured works; the gallery SERGIO LADRON DE GUEVARA FINE ART will continue to be recognized for its superior quality and as an incomparable gallery experience in the desert.
We also invite you to see the new website of a special series painted by Sergio over a span of 19 years, 116 casein on paper works "Walls of France/Walls of Mexico". www.TheWalls of Sergio.com