Sergio Ladrón de Guevara Fine Art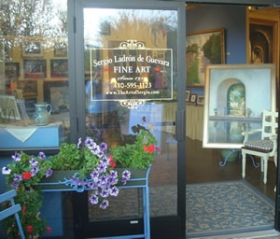 Welcome to the website of the Cave Creek, Arizona fine art gallery, SERGIO LADRON DE GUEVARA FINE ART (formerly Galeria Bellas Artes). On this site you may view and purchase all original works and fine art prints by Sergio, now on display in the gallery and you may order a wide variety of his fine art prints on paper and canvas, framed and unframed. If you live in or visit the Phoenix/Scottsdale area, Sergio's wife Karen invites you to come to the gallery, filled with the breadth of Sergio's work from a 64 year career as a professional artist. Here you can hear about the artist, see his work, and purchase directly from the gallery.

In the Cave Creek, Arizona gallery, MEXICAN, FRENCH, ITALIAN AND SONORAN DESERT subjects, cover the walls as original paintings and fine prints on canvas and paper. A small etching studio is incorporated into the gallery space including two hand built etching presses, copied from that of Rembrandt. Numerous fine etchings are displayed on the wall and in portfolios. A small number of exquisite silverpoint drawings are also shown.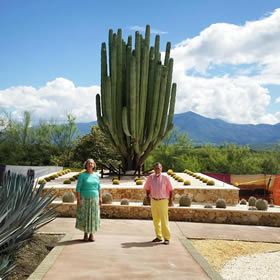 If you would like to keep in touch with the gallery and the work please sign up HERE to join A LIFE OF ART. Stories and anecdotes by Karen, of Sergio's 64 years of living as an artist, give a closer look into the world of this artist. You may enjoy knowing why Sergio often wore a tie - even while he painted, or why he followed the house painters at his home in Mexico City, when he was only four years old – Karen will write of these things and more.There will also be a link to purchase the art mentioned that day. A LIFE OF ART is simple to sign up for and is an interesting way to see more of Sergio's work. You do not need a Paypal account to use the service - all credit cards are accepted. If you are not able to work the system call Karen 480-595-1123, and she will process your purchase.

Two important series from the artist's 'oeuvre' may also be seen in the gallery – his "WALLS OF MEXICO/ WALLS OF FRANCE" series, casein paintings of Mexican and French street scenes showing the daily life of places where Sergio spent much of his own life, and the "PANDORA VARIATIONS" series, a fascinating body of semi-abstract works. Both of these series will be available in Limited Edition fine prints.

Any questions about the gallery or the art work may be asked of Karen Ladron de Guevara at 480-595-1123. If you prefer you may email me at karen@theartofsergio.com.

Find us on Facebook.